Asset Protection Strategies | Medicaid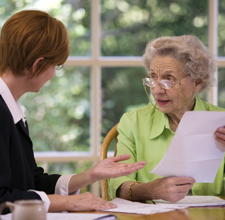 The elder law attorneys at The Elder Law Firm PC can protect your family when you are at risk financially — or about to lose your home — because your loved one has been admitted to, or is about be placed in a nursing home.
What is a Medicaid Crisis?
We define a Medicaid crisis as a situation where an individual has either been admitted to or is about to be placed in a nursing home, and they have been told that they have too much money or too many assets to qualify for Medicaid. The family is facing long-term health care costs ranging from $5,000 to $10,000 per month, and the only source from which to pay those expenses seems to be the family's life's savings.
It is not unusual for well-intentioned individuals to give a family incorrect advice regarding their ability to qualify for Medicaid. As Medicaid crisis attorneys, we are aware of at least 30 money-saving strategies to help single individuals in this situation and more than 60 strategies to help married couples in this situation.
We know the legal rules to help a loved one qualify for Medicaid and preserve the maximum amount permissible. Nursing home intake staff, social workers, Medicaid workers and others have incorrectly told many of our clients that they do not qualify for Medicaid. Nonetheless, we regularly save our clients between $100,000 and $500,000 of their life's savings.
With only some basic information regarding your income and expenses, we can tell you promptly how much money we can save you and when your loved one will qualify for Medicaid benefits. It is never too late to call us, unless all of your assets have already been spent.
Other Asset Protection Strategies
We evaluate the suitability of long-term care insurance and other catastrophic illness protection strategies in light of your particular circumstances. We also evaluate the quality and benefits of specific long-term care insurance policies.
Michigan Medicaid Attorneys at The Elder Law Firm PC provide assistance in protecting your assets and protecting your family through Medicaid planning. Contact us by calling 616.840.3754 or completing our free online Medicaid planning form here.