3 Long-Term Care Planning Options for Your Spouse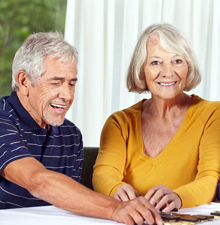 People over the age of 65 have a 70% chance of spending time in a long-term care center, assisted living, or nursing home. Married or partnered couples in this age group are also at a high risk for entering long-term care; however, both couples don't always enter care facilities together. Sometimes, one spouse may enter long-term care while the other spouse is left on their own to manage things at home.
3 Long-Term Care Options
Planning for a spouse's long-term care is crucial for making every process seamless and as easy as can be. While emotions can run high during this time, having a set plan that can be placed into action can be helpful for reducing any unnecessary stress that may come into play. Here are some options every spouse should consider when planning for their loved one's potential (or inevitable) long-term care:
Shared Care
Rather than having individual long-term care insurance, married couples may want to investigate shared care insurance. This type of long-term care insurance enables married couples to have separate plans with an option to "ride" on a partner's plan. So, if one spouse's insurance policy runs out of benefits and they require care, they can access funds from their husband or wife's plan. Shared care can help cover the following:
Assisted living
Nursing home costs
Hospice care
Alzheimer's care facilities
Home care
Long-Term Care Insurance
Investigating long-term care insurance in an addition to your other insurance plans could be a good option for spouses wishing to add an extra layer of protection to their future. Generally, long-term care insurance covers medical costs associated with long-term care facilities and medications that are not typically covered by Medicare or Medicaid.
Protecting Assets
A common concern is that long-term care will exert a financial burden on married couples. In most states, however, Medicaid is the primary payer of nursing home care, helping to ease care costs.
Learn More
If you're seeking options for long-term care, you'll probably need to help you guide your way through the often-confusing world of insurance. The Elder Law Firm PC provides Medicaid planning and long-term care insurance advice for Michigan residents. If you have a question regarding Medicare, Medicaid, or any of your other options for long-term care, please call us at (877) 933-7252. Residents in the Grand Rapids area can also attend a free seminar led by attorney The Elder Law Firm PC several times a month regarding Medicaid planning. Call to reserve your spot at this exciting and informative event.